What kind of activities would you like to see in the coming year?

Feel free to leave your thoughts in the comments.
Ok people I know there may be a few of you out here in LJ land. I want to get this group going again.


Here is the book trailer which is really neat.




For those of you that prefer a blurb: No one knew of its existence until it was removed from the attic upstairs.

In a beautiful house that overlooks the sea, an antique clock has the power to change the course of their lives.

The power the clock resonates will not only force Destiny and ex-boyfriend David on a journey into the depths of one man's mind long dead, but into the mind of a man filled with hatred and bent on revenge.

With the only clues to the nature of the clock having disappeared into the sea, Destiny and David must retrace the steps the man had taken into the darkness, before they fall prey to the trap he had set in motion over half a century ago.
Emma Michaels has her debut novel The Thirteenth Chime out on Friday, August 13, 2010. How fun and creepy is that?
Author:
Jason F. Wright
Title:
Ribbon In The Sky
Publisher:
Shadow Mountain
Publish Date:
December 1991
Rating:
5 Stars
Book Blurb:
Their story begins with one letter on their wedding night, a letter from the groom, promising to write his bride every week-for as long they both shall live.
Thirty-nine years later, Jack and Laurel Cooper die in each other's arms. And when their grown children return to the family B&B to arrange the funeral, they discover thousands of letters.
The letters they read tell of surprising joys and sorrows. They also hint at a shocking family secret-and ultimately force the children to confront a life-changing moment of truth . . .
Review:
This short little book was amazing. I started reading it in the evening and knew I couldn't keep on because I wouldn't get any sleep. It begs to be read from cover to cover.
Jack and Laurel were the sweetest couple and this book paints a picture of their marriage through the eyes of their grown children, come home to lay them to rest and through the letters Jack wrote to Laurel ever Wednesday of their marriage.
I loved how very different their three children were and how they loved each other. I perhaps would have liked to have known more about Samantha and Matthew lives. They both had troubles in their marriages but Wright kept much of the focus on Malcolm, the middle son who is part of the secret they learn through the letters and then through their aunt Allyson. It is a secret that really rocks Malcolm, the troubled middle child to the very core of his being.
This book shows what true love really is. It shows us forgiveness and healing. It displays Christian values without being preachy. It even shows how two people with different political views live as one.
The Wednesday Letters is more than just a keeper shelf book, its a must read book. It will make you laugh, it will make you cry and it will give you warm fuzzy feelings. If you haven't read this book, go get it now!!!


#8 "The Progressive Revolution: How the Best in America Came to Be" by Michael Lux (thumbs down)

#9 "The Experts' Guide to 100 Things Everyone Should Know How to Do" by Samantha Ettus (pretty neat)

#10 "I Hated, Hated, Hated This Movie" by Roger Ebert (50/50)

Right now I'm working on a biography of Joey Ramone, which is pretty awesome so far.
I'm pretty freakin' proud that I actually read three books this month! Will write up proper reviews when I get a second to breathe, but here's what I read (numbered by the book challenge number):


1. Sabina Clark - An Artful Lady 5/29/2010

2. Kimberly Raye - Til We Meet Again 5/28/2010

3. Jane Porter - King Of The Desert, Captive Bride 5/25/2010

4. Karen Robards - Green Eyes 5/24/2010

5. Mallory Kane - The Sharpshooter's Secret Son 5/20/2010

6. Jen Lancaster - My Fair Lazy 5/20/2010

7. Debra Lee Brown - Gold Rush Bride 5/18/2010

8. Lynn Jacobs - Folly To Love 5/13/2010

9. Erica Spindler - See Jane Die 5/12/2010

10. Anne Worboys - Aurora Rose 5/11/2010

11. Debbie Macomber - Savannah's Garden 5/7/2010

12. Jennifer Weiner - Little Earthquakes 5/5/2010

13. Maggie Davis - Dream Boat 5/4/2010

14 Kara Lennox - Downtown Debutante 5/3/2010
I didn't read as many books this month, but I read several long ones, so that kind of evens the score. This puts me at 72 books for the year.
What was the best book you've read recently and why did you like it?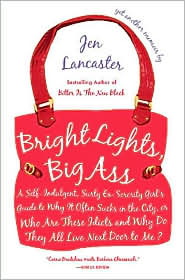 Book Title:
Bright Lights, Big Ass
Author:
Jen Lancaster
Release Date:
2007
Review
I'm generally not a non-fiction kind of girl when it comes to reading. I like chick-lit, I like romance and some good paranormal books, but for the most part, non-fiction to me would be a cookbook. Then I discovered Jen Lancaster.
I discovered her books a few months back and I really wanted to read ALL of them. She writes snarky humor about her life. I knew instantly that I'd like her, and when I finally got a copy of Bright Lights Big Ass, I knew I was right, for the most part.
Jen is snarky, a little goofy, often mean, which means she should be my new best friend. However, she's a Republican. That kinda made me sigh sadly as right now, I prefer to distance myself from all of that breed of politician. Oh and she admits to reading Ann Coulter. Ewww.
However her attitude and her life in general make for good reading. OK, they make for more than good reading, they make for good laughing. If you don't want people looking at you funny, don't read this book in public, because you will laugh out loud.
Some of her issues will really have you shaking your head and some will have you nodding in agreement, especially her issue with nudity in the spa. You really have to read it appreciate it.
There's too much funny to go into, but some of the things she talks about are Rachael Ray, her temp jobs and her neighbors. Pretty normal stuff, eh? But not with Jen.
This was one of the funniest books I've read in ages and I still wouldn't mind having Jen as a friend, as long as she didn't talk politics
Book Title:
Dracula
Author:
Bram Stoker
Release Date:
1897
Review
Despite being a huge horror nerd, I never actually sat down and read Dracula. After tackling it, I wish I'd read it sooner. Everyone pretty much knows the plot, at least in general, so I'll spare you a recap. What amazed me is how much gets left out of the adaptations of the book. There are entire characters that don't make the cut, like ex-pat cowboy Quincey Morris (who intrigued me so much that I'm trying to write a spec script adaptation of the story from his point of few). Also, even the grisliest of Dracula movies haven't captured some of the awesome, gory, gothic details that the book gorgeously describes.
My only letdown was the ending. It has a HUGE buildup and then ends it in a page and a half. After spending 200 pages reading about rich white British women being all woeful with the vampire vapors, I would've appreciated, I don't know, a more epic ending. Still, I can see know why Dracula is the Citizen Kane of gothic lit.
bqueenbandit's book challenge tally:
7 out of 20
Like/Dislike:
liked


These are all the books I read this month going from my most recent read to the book I finished on April 2.

I'm going to bold the books that I liked the best. If you'd like links to any of the reviews, just ask.

1. Kay Clifford - Recipe Of Love

2. Heather MacAllister - His Little Black Book

3. Susan Meier - Married In The Morning

4. Rebbeca Winter/Dominque Burton - A Mother's Wedding Day

5. Julie Kenner - Moonstruck

6. Jen Lancaster - Bright Lights, Big Ass (Highly Recommend for a good laugh)

7. Marta Perry - Promise Forever

8. Katherine Arthur - Loving Deceiver

9. Kimberly Raye/Samantha Hunter - Blazing Bedtime Stories IV

10. Betty Neels - Never The Time And The Place

11. Rhonda Nelson - 1-900-LOVER

12. Judy Kaye - Letters Of Love

13. Jacqueline D'Alessandro/Joanne Rock/Kathleen O'Reilly - A Blazing Little Christmas

14. Catherine George - Consolation Prize

15. Alexandra Scott - An Old Affair

16. Patricia Knoll - Always A Bridesmaid

17. Carly Phillips - Body Heat

18. Kathleen O'Reilly - Midnight Resolutions

19. Almost April - Zoa Sherburne (young adult)
I did pretty good this month. I read twi more books in April than I did in March. Had my father not had some health issues which needed my time and attention, I probably would have read more and worried less. This puts me at 59 books for the year!
I've been contemplating books by PC Cast and Marta Acosta? Have any of you guys read any of their books? If so, any recommendations?